Diamonds Contact Pricelist Guestbook Links AVG
Company Profile....
Founded in 1927, Daems Diamonds represents a unique combination of modern innovation with over 88 years of diamond experience.
For over three generations we have prided ourselves on supplying top quality diamonds to leading diamond wholesalers around the world.
Our new goal is to redefine the way people buy diamonds online. Daems Diamonds brings the same incredible quality to the online
customers while still maintaining wholesale prices.
Daems Diamonds brings you today's most popular loose certified diamonds online.
Daems Diamonds History...
Our factory started beginning 1927, named Frans Andries, a polishing factory with 32 diamond cutters.
In 1954, it became a real big enterprise, Andries and Cie Pvba, with a total of 221 diamond cutters, a real family-business.
Buying the rough stones in the Antwerp Diamond Exchange, they all been cutted in our factory in Ramsel, a small city in the
province Antwerp. Because times were changing and labor was getting more expensive, we closed our plant in Ramsel
in 1987 and the diamond manufacturers had to start the production in foreign countries. In 1988, our name changed in "Daems Bvba".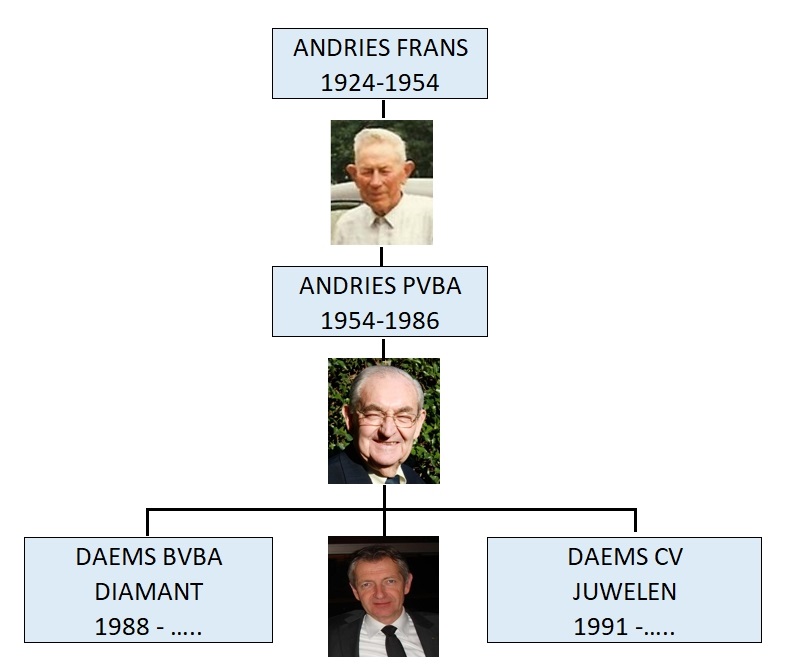 "It is not my intention to overload my website with difficult words, I just try to explain my customers how diamonds are produced
over here since years. Believe me, the diamond-business is a very complicated and difficult business. It is impossible for me to
explain my whole experience in a few minutes. It is not only color and clarity which are important, but all small figures together
makes a diamond to an excellent brilliant. The most important is that you will love your diamond. Don't buy diamonds like shares
as investment. A diamond is made to wear in an adapted jewel."
Marc Daems.